TWICE (트와이스/トゥワイス)
---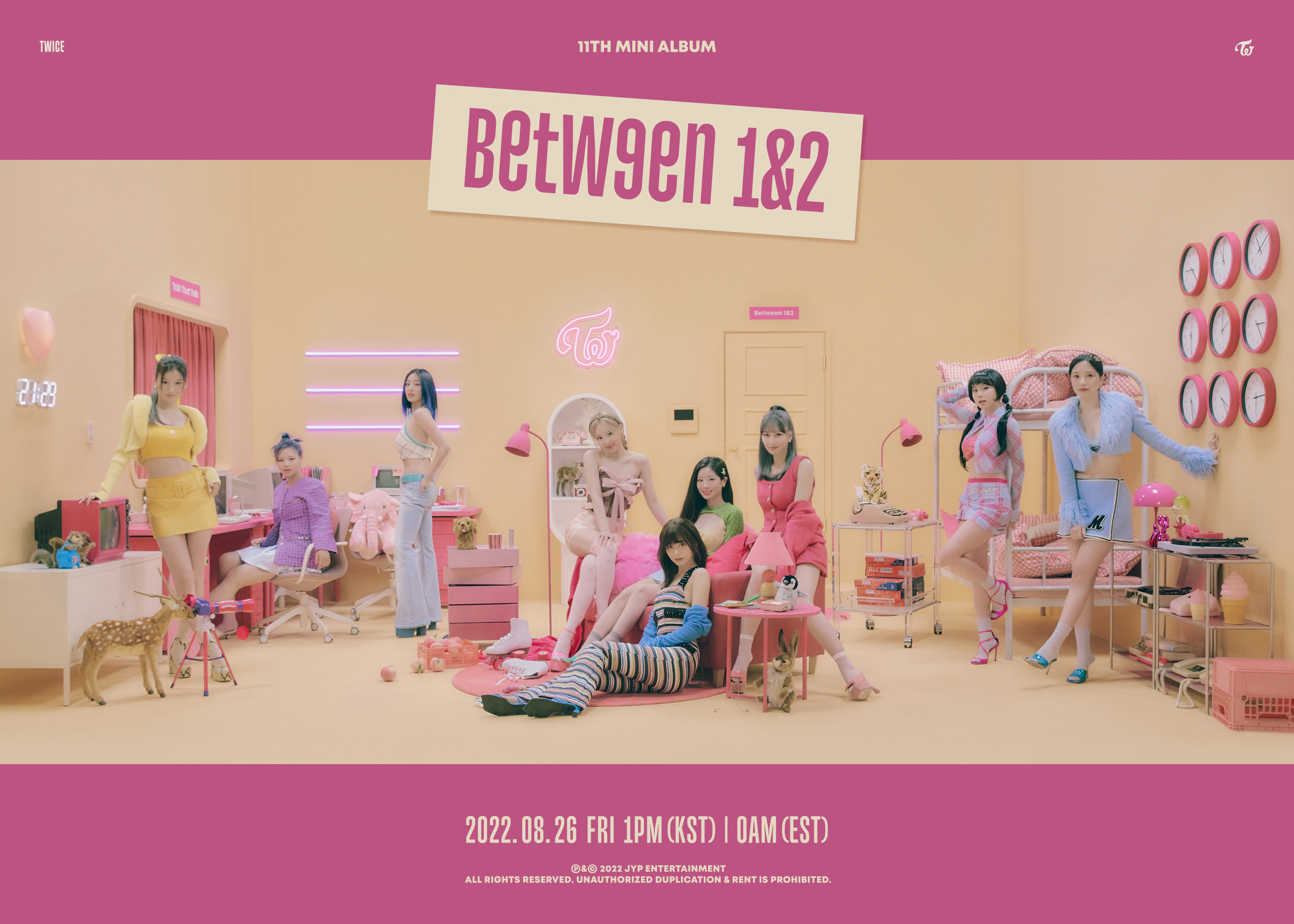 Nayeon

,

Jeongyeon

,

Momo

,

Sana

,

Jihyo

,

Mina

,

Dahyun

,

Chaeyoung

,

Tzuyu

About
TWICE (Hangul: 트와이스, Romanization: teuwaiseu; Japanese: トゥワイス, Romanization: touwaisu) is a 9 member girl group from JYP Entertainment.
The group is composed of members from South Korea, Japan, and Taiwan. They were originally formed by the survival show Sixteen, which aired in 2015. Their name means: "…the group will touch people's hearts twice: once through the ears, and once again through the eyes."[x]
TWICE debuted on 20 October 2015, and the fandom name is Once.
Members
Members
---
Jihyo (지효)
Birth Name: Park Jisoo (박지수)
Position: Leader, Main Vocalist
Birthday: 1 February 1997
Nationality: 🇰🇷
Emoji: 🦄
Nayeon (나연)
Birth Name: Im Nayeon (임나연)
Position: Lead Vocalist, Lead Dancer, Center, FOTG
Birthday: 22 September 1995
Nationality: 🇰🇷
Emoji: 🐰
Jeongyeon (정연)
Birth Name: Yoo Kyungwan (유경완)
Position: Lead Vocalist
Birthday: 1 November 1996
Nationality: 🇰🇷
Emoji: 🐶
Momo (모모)
Birth Name: Hirai Momo (平井 もも)
Position: Main Dancer, Vocalist, Rapper
Birthday: 9 November 1996
Nationality: 🇯🇵
Emoji: 🍑🐷
Sana (사나)
Birth Name: Minatozaki Sana (湊崎 紗夏)
Position: Vocalist
Birthday: 29 December 1996
Nationality: 🇯🇵
Emoji: 🐹
Mina (미나)
Birth Name: Myoui Mina (名井 南)
Position: Main Dancer, Vocalist
Birthday: 24 March 1997
Nationality: 🇯🇵
Emoji: 🐧
Dahyun (다현)
Birth Name: Kim Dahyun (김다현)
Position: Lead Rapper, Vocalist
Birthday: 28 May 1998
Nationality: 🇰🇷
Emoji: 🤍🦅
Chaeyoung (채영)
Birth Name: Son Chaeyoung (손채영)
Position: Main Rapper, Vocalist
Birthday: 23 April 1999
Nationality: 🇰🇷
Emoji: 🍓🐯
Tzuyu (쯔위)
Birth Name: Chou Tzuyu (周子瑜)
Position: Lead Dancer, Vocalist, Visual, Maknae
Birthday: 14 June 1999
Nationality: 🇹🇼
Emoji: 🦌
---
KR Studio Albums
Korean Studio Albums
---
---
---
KR Repackaged Albums
Korean Repackaged Albums
---
KR EPs
KR Special Albums
Korean Special Albums
---
---
---
KR Digital Singles
Korean Digital Singles
---
OSTs
OSTs
---
---
---
---
---
Collaborations
Collaborations
---
[#1] K/DA – ALL OUT
Release Date: 2020.11.06
Tracklist:
05. I'LL SHOW YOU [Nayeon, Sana, Jihyo, Chaeyoung]
JP Studio Albums
JP Repackaged Albums
Japanese Repackaged Studio Albums
---
---
JP Best Albums
JP Singles
Japanese Singles
---
---
---
---
---
---
---
---
---
JP Digital Singles
Japanese Digital Singles
---
---
English Singles
English Singles
---
---
[#2] I CAN'T STOP ME (English Ver.)
Release Date: 2020.11.30
Tracklist:
01. I CAN'T STOP ME (English Ver.)
---
[#3] The Feels
Release Date: 2021.10.01
Tracklist:
01. The Feels
02. The Feels (The Stereotypes Remix)
03. The Feels (Yves V Remix)
04. The Feels (Instrumental)
05. The Feels (The Stereotypes Remix) (Instrumental)
06. The Feels (Yves V Remix) (Instrumental)
---
---
EPs
---